Alienware x17 R2
Tech Specs
Intel Core 12th Generation i9-12900HK Processor (14 Core, Up to 5.00GHz, 24MB Cache, 45W)

Windows 11 Home

1TB PCIe M.2 NVMe Gen 4 Class 40 Solid State Drive

32GB (2X16GB) Up to 4800MHz DDR5 SoDIMM Non-ECC

17.3 inch FHD (1920 x 1080) 480Hz 3ms ComfortView Plus Low Blue Light Non-Touch Display, NVIDIA G-SYNC & Advanced Optimus

NVIDIA GeForce RTX 3080 Ti 16GB GDDR6

Lunar Light with High Endurance Clear Coat designed for stain resistance

Dell Outlet Alienware x17 R2 Laptop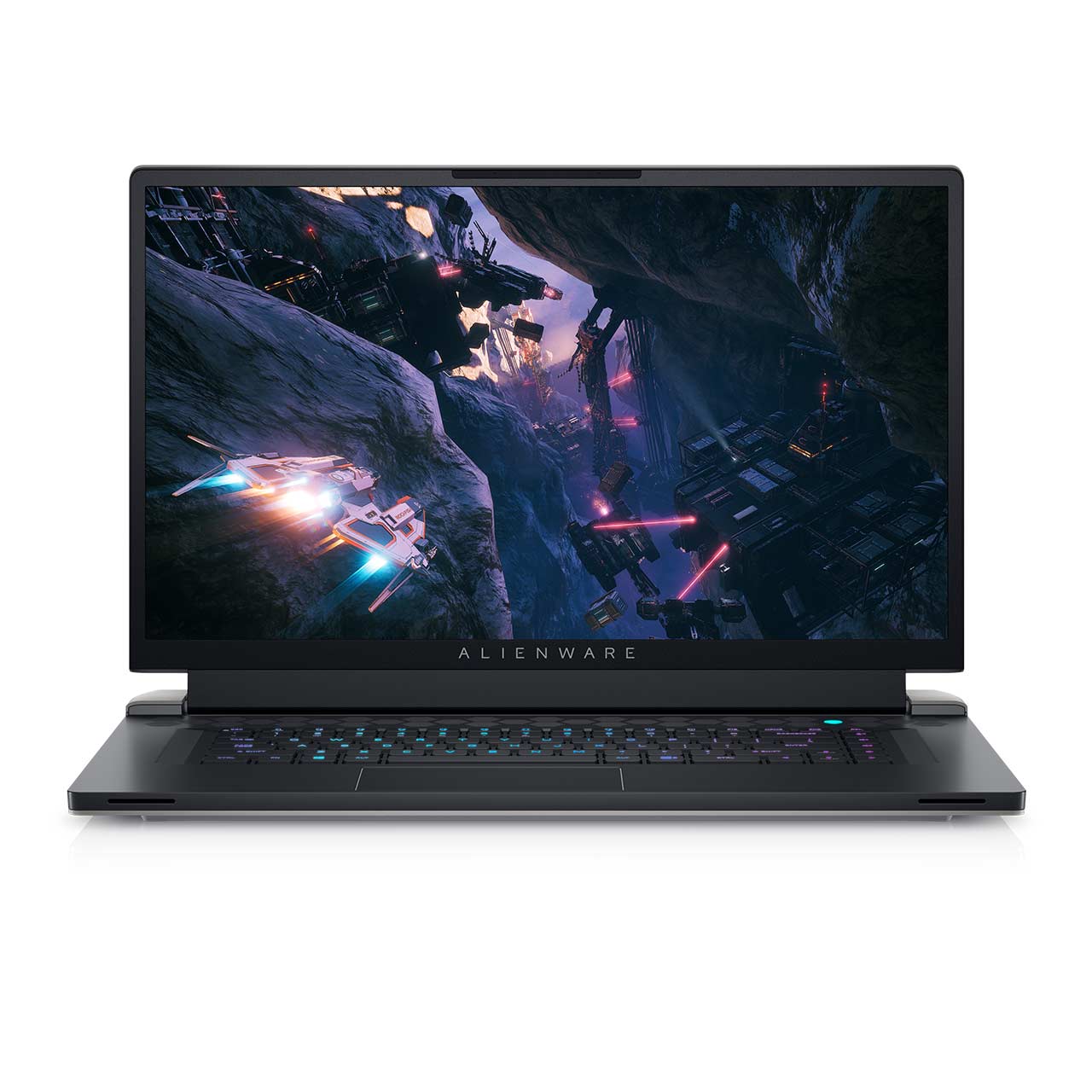 Like New (Refurbished)

HD RGB IR Camera and Microphone

6-Cell, 87 WHr Lithium Ion Battery

Killer Wi-Fi 6E AX1675 802.11ax 2x2 Wireless LAN and Bluetooth

Alienware X-Series thin keyboard with per-key AlienFX lighting

Palmrest for 85 keys layout Keyboard

330 Watt Small Form Factor AC Adapter

G-SYNC Feature

Non-lighting Multi-touch gesture touchpad with integrated scrolling

Power Cord NEMA 5-15P to C13, 15 amp, wall plug, 10 feet / 3 meter

SSD Bracket

Original Price$4,000.00

Total Savings$1,898.01

Standard ShippingFREE
Outlet Price$2,101.99

AL X17 R2 : 1 Year Premium SupportINCLUDED
Scratch & Dent

HD RGB IR Camera and Microphone

6-Cell, 87 WHr Lithium Ion Battery

Killer Wi-Fi 6E AX1675 802.11ax 2x2 Wireless LAN and Bluetooth

Alienware X-Series thin keyboard with per-key AlienFX lighting

Palmrest for 85 keys layout Keyboard

330 Watt Small Form Factor AC Adapter

G-SYNC Feature

Non-lighting Multi-touch gesture touchpad with integrated scrolling

Power Cord NEMA 5-15P to C13, 15 amp, wall plug, 10 feet / 3 meter

SSD Bracket

Original Price$4,000.00

Total Savings$2,094.01

Standard ShippingFREE
Outlet Price$1,905.99

AL X17 R2 : 1 Year Premium SupportINCLUDED
5 in stock

New

HD RGB IR Camera and Microphone

6-Cell, 87 WHr Lithium Ion Battery

Killer Wi-Fi 6E AX1675 802.11ax 2x2 Wireless LAN and Bluetooth

Alienware X-Series thin keyboard with per-key AlienFX lighting

Palmrest for 85 keys layout Keyboard

330 Watt Small Form Factor AC Adapter

G-SYNC Feature

Non-lighting Multi-touch gesture touchpad with integrated scrolling

Power Cord E5 125V

SSD Bracket

Original Price$4,000.00

Total Savings$1,849.01

Standard ShippingFREE
Outlet Price$2,150.99

AL X17 R2 : 1 Year Premium SupportINCLUDED
5 in stock

Like New (Refurbished)

HD RGB IR Camera and Microphone

6-Cell, 87 WHr Lithium Ion Battery

Killer Wi-Fi 6E AX1675 802.11ax 2x2 Wireless LAN and Bluetooth

Alienware X-Series thin keyboard with per-key AlienFX lighting

Palmrest for 85 keys layout Keyboard

330 Watt Small Form Factor AC Adapter

G-SYNC Feature

Non-lighting Multi-touch gesture touchpad with integrated scrolling

Power Cord NEMA 5-15P to C13, 15 amp, wall plug, 10 feet / 3 meter

SSD Bracket

Original Price$4,000.00

Total Savings$2,002.01

Standard ShippingFREE
Outlet Price$1,997.99

AL X17 R2 : 1 Year Premium SupportINCLUDED
2 in stock

Scratch & Dent

HD RGB IR Camera and Microphone

6-Cell, 87 WHr Lithium Ion Battery

Killer Wi-Fi 6E AX1675 802.11ax 2x2 Wireless LAN and Bluetooth

Alienware X-Series thin keyboard with per-key AlienFX lighting

Palmrest for 85 keys layout Keyboard

330 Watt Small Form Factor AC Adapter

G-SYNC Feature

Non-lighting Multi-touch gesture touchpad with integrated scrolling

Power Cord NEMA 5-15P to C13, 15 amp, wall plug, 10 feet / 3 meter

SSD Bracket

Original Price$4,000.00

Total Savings$1,995.01

Standard ShippingFREE
Outlet Price$2,004.99

AL X17 R2 : 1 Year Premium SupportINCLUDED
1 in stock

Like New (Refurbished)

HD RGB IR Camera and Microphone

6-Cell, 87 WHr Lithium Ion Battery

Killer Wi-Fi 6E AX1675 802.11ax 2x2 Wireless LAN and Bluetooth

Alienware X-Series thin keyboard with per-key AlienFX lighting

Palmrest for 85 keys layout Keyboard

330 Watt Small Form Factor AC Adapter

G-SYNC Feature

Non-lighting Multi-touch gesture touchpad with integrated scrolling

Power Cord NEMA 5-15P to C13, 15 amp, wall plug, 10 feet / 3 meter

SSD Bracket

Original Price$4,000.00

Total Savings$1,789.01

Standard ShippingFREE
Outlet Price$2,210.99

AL X17 R2 : 1 Year Premium SupportINCLUDED
1 in stock

Like New (Refurbished)

HD RGB IR Camera and Microphone

6-Cell, 87 WHr Lithium Ion Battery

Killer Wi-Fi 6E AX1675 802.11ax 2x2 Wireless LAN and Bluetooth

Alienware's CherryMX ultra-low profile mechanical keyboard with per-key AlienFX lighting

Palmrest for 85 keys layout Keyboard

330 Watt Small Form Factor AC Adapter

G-SYNC Feature

Non-lighting Multi-touch gesture touchpad with integrated scrolling

Power Cord NEMA 5-15P to C13, 15 amp, wall plug, 10 feet / 3 meter

SSD Bracket

Thermal Plate

Original Price$4,050.00

Total Savings$1,921.01

Standard ShippingFREE
Outlet Price$2,128.99

AL X17 R2 : 1 Year Premium SupportINCLUDED
Features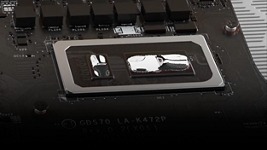 Element 31
Take on marathon gaming sessions with ease, thanks to Element 31, an Alienware-exclusive gallium-silicone thermal interface material that offers a 25% improvement in thermal resistance
*
and double the energy storage capability of previous generations
*
. Only available on systems with NVIDIA
®
GeForce RTX™ 3070 Ti (Coming Soon) or 3080 Ti graphics cards.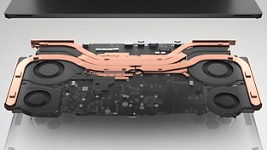 Quad Fan Technology
Game with confidence with our patent-pending, independently controlled quad fan design. This new design includes standard evacuative fans as well as a dual opposite outlet (DOO) fan, which moves air through the chassis and over internal hotspots to create a pressurized environment that dissipates heat and reduces external temperatures.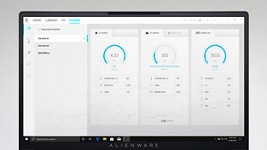 Unique Power States
Tailor your PC to your needs by using one of the five unique power states made available via the Alienware Command Center. Choose from Performance Mode, Balanced Mode, Battery Saver Mode, Quiet Mode and Full Speed Mode, which can also be toggled using FN+F1.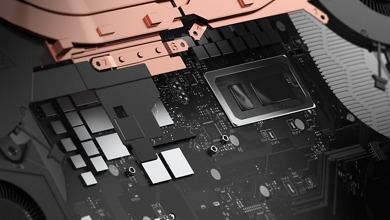 High-performance features
Experience high-performance action across your favorite games and applications with up to 14-core 12th Gen
Intel
®
Core™ processors. Plus, push performance to its limit with post-purchase user-upgradeable memory SO-DIMMs, up to 64GB of DDR5 memory
*
and
NVIDIA
®
GeForce RTX™ graphics that feature NVIDIA Dynamic Learning Super Sampling (DLSS) technology, Ray Tracing, and NVIDIA Max-Q technologies.
Boost Performance with AI
NVIDIA DLSS is designed to increase performance, without sacrificing quality, by using cutting-edge AI.
More Immersive Experiences
Ray Tracing enables realistic and immersive graphics, which runs fast thanks to 2nd gen RT Cores.
Optimized Power and Performance
NVIDIA Max-Q is a suite of technologies powered by AI that optimize laptops to deliver high performance in thin form factors.
Level up your play
Perform at your peak for hours on end with the support of HyperEfficient 12-phase graphics voltage regulation and 6-phase processor voltage regulation. These unique technologies enable GPUs and CPUs to run at high levels, specifically during extended periods of gameplay.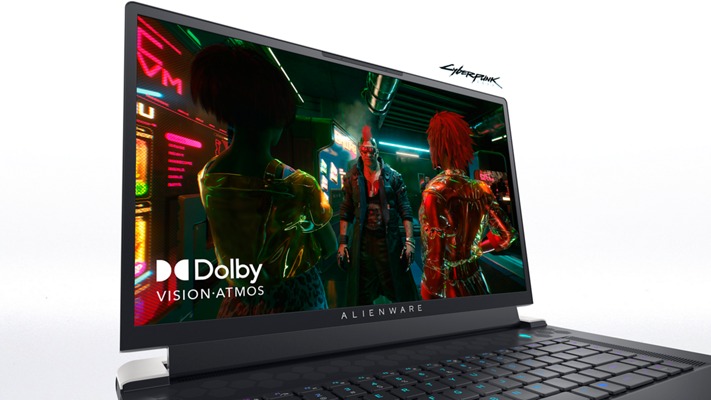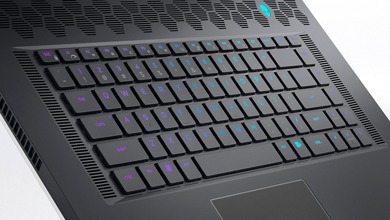 The superior keyboard
Enhance your play with a highly responsive keyboard that features RGB LED lighting, N-key rollover technology, anti-ghosting technology, 1.5mm key-travel and conveniently placed, right-hand side media keys. Plus, ramp up the action with incredible ease, by quickly toggling between "Full Speed" and "Balanced" power states by pressing FN+F1.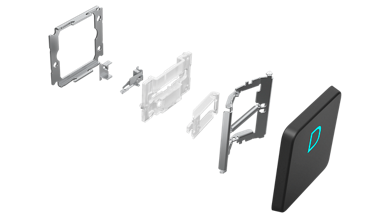 Codeveloped with Cherry
Turn heads and keep them spinning with an optional mechanical keyboard that delivers 1.8mm key-travel and an exceptionally tactile and audible experience.
Designed with Advanced Butterfly Technology, this optional keyboard also provides a smooth, wobble-free feeling when gaming—whether you're hitting the center of a key or not. Plus, thanks to German engineered stainless-steel switches
*
, gold-plated electrical contact enclosures and a 15 million keystroke lifecycle, performance and longevity are all but guaranteed.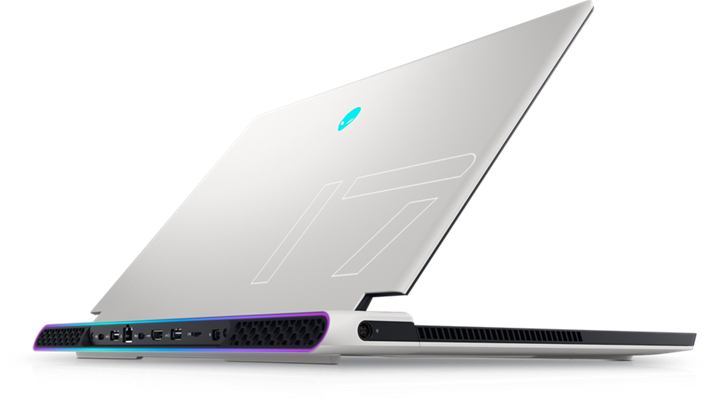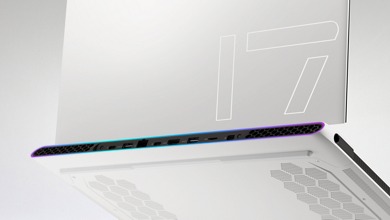 Boundary-breaking connectivity
Let the lightning-fast games begin with the high-speed capabilities of Killer Wi-Fi 6E and USB 3.2 Gen 2 Type-C, which transfers data at up to 40Gbps. Plus, enjoy these speeds with unprecedented convenience, thanks to a layout that places all video ports at or near the back of the system, rather than on the sides.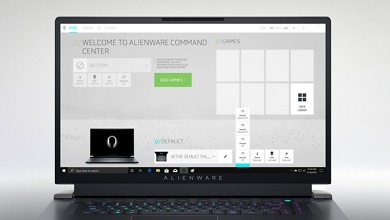 Tailored experiences
Create performance profiles designated for power, thermal management, sound, lighting, macros, and more in Alienware Command Center for the best gaming experience possible. The latest version includes easy-to-customize AlienFX settings, intuitive overclocking options, and unique power management modes based on your personal preferences. Modes include Full Speed, Performance, Balanced, Battery Saver, and Quiet.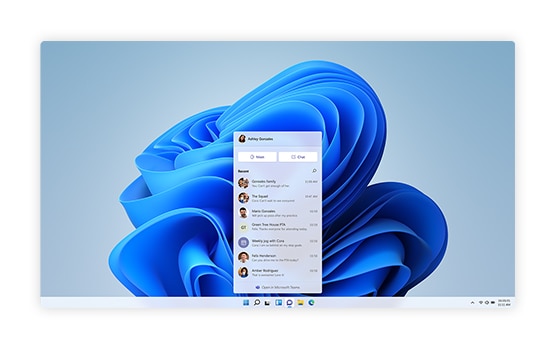 Their latest. Our greatest.
Dynamic doesn't begin to describe this duo. Together, Windows 11 and Dell PCs create a best-in-class experience.
A fresh perspective
An inspiring new look and feel makes for a calmer experience.
Balance your life
Refocus your workflow with snap assistant. Or Switch between desktops for greater organization of open windows.
Life's better together
Call, chat, and make plans come to life with Teams on Windows 11
*
right from your PC regardless of what computer or phone or tablet they are on.
*
Learn More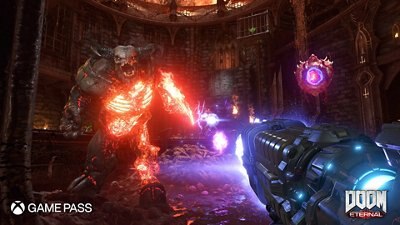 Get your game on
Play over 100 high-quality PC games with your new Alienware PC and one month of Xbox Game Pass Ultimate
*
for PC-including EA play. With new games added all the time, there's always something new to play. Included on select configurations only. Cloud Gaming with Xbox Game Pass Ultimate requires connected controller.

Ports & slots
2. Type-C Thunderbolt™4 / USB 3.2 Gen 2 Port, with Power Delivery (5V/3A)
3. Type-A USB 3.2 Gen 1 Port, with Powershare
4. RJ-45 Killer™ Ethernet E3100 2.5G Port
5. Type-C USB 3.2 Gen 2 Port, with Power Delivery (5V/3A)
6. HDMI 2.1 Output Port
7. Type-A USB 3.2 Gen 1 Port, with Powershare
8. MicroSD Card Slot
9. Mini Display Port 1.4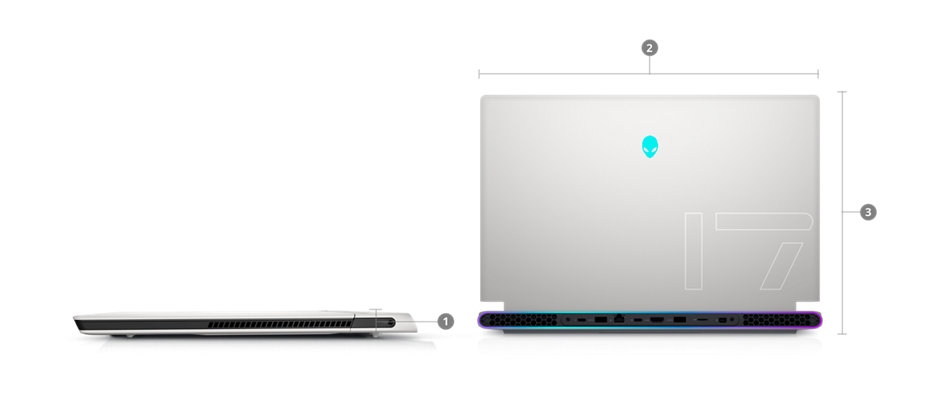 Stay Unstoppable in the Game.
Premium Support
has you covered day and night to help with new game installation, troubleshooting, and more. It's one more weapon in your arsenal. Get one year of Premium Support included when you purchase an Alienware laptop.
Upgrade to Premium Support Plus
for ultimate support to keep you battle-ready
*
. Repairs are covered! That includes drops, spills, or electrical surges
*
. Whether you want game installation assistance, help optimizing your system settings, or need assistance with driver updates, we're here for you 24x7
*
.
Accidental Damage Service.
No matter how careful you are, accidents happen. Save time and effort when you plan ahead to protect your gaming PC. Accidental Damage Service covers drops, spills and surges with an easy, streamlined process and no extra fees or deductible.